Daniel Chust Peters
---
Daniel Chust Peters (Sao Paulo, 1965, Brazil). Lives and works in Barcelona. As a visual artist, his work is dedicated to the complexity that exists between the space of artistic production (the studio) and the exhibition spaces. The media and the medium in which each project takes place, differ between the object, photography, video and installation.
In recent years his work has been exhibited at the following exhibitions: 2008 Foundation Switzerland, Paris. 6th Biennal d'Art Leandre Cristòfol, Lleida. 2007 "Micro Narrative" 48th October Salon, Belgrad, Serbia. "I LIKE TO BE A RESIDENT" LACAPELLE, Barcelona. Pass-by "Artist's Studio Gallery, Tel-Aviv, Israel. "Productivity ZONES OF CONCERT" Contemprain Musée d'Art du Val de Marne. MAC / VAL. Vitry-sur-Seine. França. "SALTAR PER L'AIRE" Antic Ajuntament. Tarragona. 2006 "nEUclear reactions", CAB, Centro de Arte Caja de Burgos, Burgos. "Compressed air", Casa America, Madrid. 2005 "AIR SHOW", Centro de Arte Santa Mònica, Barcelona, "INTERNATIONAL BIENNALE OF CONTEMPORARY ART OF THE NATIONAL GALLERY IN PRAGUE 2005". 2004 "SETTLEMENTS", Musée d'Art Moderne, Saint-Etiene France. "LOOKING FURTHER-THINKING THROUGH " Reykjvik Art Museum-Hasnarhus. Iceland.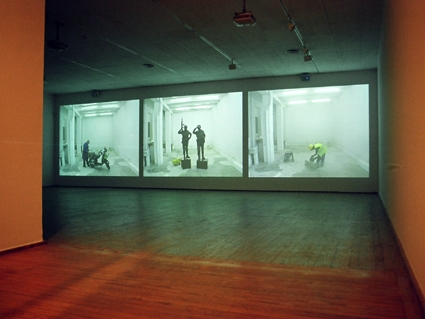 Statement
Com a pràctica artística aplico un mètode de treball des de fa disset anys:
1 - Tinc una idea: reprodueixo el meu taller
2 - No tinc cap idea: reprodueixo el meu taller
3 - Tinc una altra idea: reprodueixo el meu taller

El fet de tenir idees queda restringida en una sola. La idea és la de mantenir una sola idea al llarg dels anys. Aquesta sola idea és la de reproduir el meu espai de creació artístic. Reprodueixo un espai que ja existeix per no idealitzar un de nou.

Reprodueixo el meu taller que és l'espai més proper i concret que habito, en el qual passo entre 6 a 8 hores diàries. És el taller perquè li assigno aquesta funció, i d'altra banda el taller de l'artista és significatiu al llarg de la història de l'art.

Per inèrcia i voluntat refaig contínuament la mateixa idea. Si tinc una altra idea m' autocensuro reproduint una altra vegada el taller. No és una obsessió ni una resistència. És una actitud d'apreciació estètica entre el mantenir una constant i la confrontació de multiples variables externes.
Cada reproducció del taller estableix una complicitat entre l'individu i altres organismes més complexos i abstractes com són Institucions culturals tant publiques com a privades. Les variacions de cada reproducció són degudes a les relacions, negociacions, espais... que existeixen entre l'artista i cada institució que condicionen tant l'estructura física com el contingut de l'obra.