Joan Morey
---
Morey lives and works in Barcelona. BA and DEA in Fine Arts from the Universidad de Barcelona. After teaching in university, he has participated in various round tables, seminars, workshops... and lectured at a number of conferences about the versatility of languages that his oeuvre explores, the diverse forms of contamination that take place between creative fields (especially between Fashion and Art) with an eye to work out some of the unknown variables that reduce Art to a 'product' of the present, a kind of latest fashion.

Amongst his most recent projects, the following stand out: EL MAL EJEMPLO at Sala de Cultura "Sa Nostra" in Mallorca and Ibiza (Balearic Islands) and DOMINION, part of P_O_2 [Procesos_Abiertos_2], in Terrasa (Barcelona). He has also been part of ground shows such as "Bad Boys" in the 50th Venice Biennale, "The Black Album" (Antonio Colombe Arte Contemporanea) in Milan, "Gli altri" (Gas Art Gallery) in Torino, "Antirrealismos: Spanish Photomedia Now" (Australian Centre for Photography) Sydney… as well as in shows in Spanish exhibition spaces and art centres, such as "Paisajes Mediáticos" (in the exhibition spaces of La Fundació "La Caixa") in Cataluña, "IndisciplinadoS" (MARCO) in Vigo, "Ofelias y Ulises" (49 Bienal) in Venice, "Vostestaquí" and "Interzona" (La Virreina) in Barcelona, "Hipertronix" (EACC) in Castellon, "Lost in Sound" (CGAC) Santiago de Compostela. His work has also been screened as part of several video programmes, in fairs and solo exhibitions in galleries (Luis Adelantado in Valencia, Horrach Moyà in Palma de Mallorca and Paul Greenaway in Australia).

He has received several grants and awards for his artistic trajectory, as well as the prize for new photographer at Photo España 2004.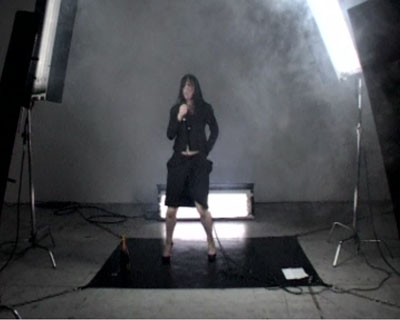 Statement
As part of his creative production Morey creates the brand STP/Soy Tu Puta (I am your whore) in 1997, highlighting the instrumentalized nature of the creative 'fact' itself in order to evidence the subordination of any artistic production to the numerous power structures. Working under a brand's acronym allowed him to explore different mechanisms and languages which, in their interaction, turned the contamination between creative fields -especially between Fashion and Art- into the configuration of the different levels of his work.

His is an artistic project that takes shape in multiple formats -the still image and the moving image, performance and other devices of audiovisual communication stand out- by means of which he examines in indirect ways hypertextual strategies such as appropiation, unmaking, ready-mades or referential collages. A set of formal and conceptual elements that constructs a personal discourse in distorting the univocal character of identity.

Out of the reciprocal contents of his project apathy, courage, perversity, obedience, boredom, fear, nonconformism, disappointment... emerge, intertwined like links of a chain of an ideological positioning belonging to the stage of micropolitics.

His work methodology stems from diverse exercises of research and reflection about the subordinated situation of the artist in relation to the multiple structures -linked to the economy, the institution or politics- imposed in the realm of art or by the cultural machinery.

The use of metareferential links allow him to create numerous codes, situations and styles which expand the field of action of his projects and let him interact with a different spectator. Thus, multiple formal resolutions and 'borrowed' strategies of production lead the images and the projection of his pieces toward a confrontation between Art and Fashion, Economy and Philosophy, Politics and Film or Music, in short, the Social and the Cultural.