Lucía Egaña Rojas
---
Lucía Egaña Rojas (Chilean, 1979) lives in Barcelona. She studied Fine Arts, Aesthetics and Documentary in Chile and Spain. Visual artist, she does installations, performances, video and collage. Her work can be defined as collaborative, residual and social. She has a blog with her writings (www.blog.lucysombra.org). As a VJ (Vj TrashMixer) Lucía works with electronic trash, wasted footage, technological and cultural residues.

She's a founding member of minipimer.tv, a collective and laboratory of real time video, streaming and free technologies.

Pornography, postpornography and human sexuality are also important topics on her work. Her last project, Mi sexualidad es una creación artística, is a documentary film about the postporn scene in Barcelona.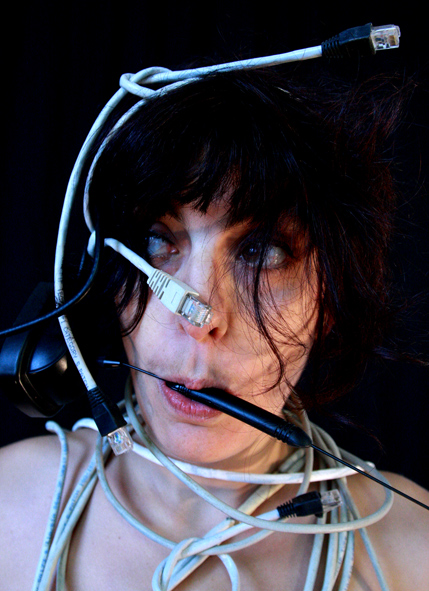 www.lucysombra.org
Statement
El treball de Lucía Egaña utilitza materials i metodologies simples i quotidianes que des d'un punt de vista polític i social, busquen produir obres que puguin ser interpretades per espectadors amb diferents nivells de comprensió.

Interessada en la cultura lliure (filosofia i pràctica), utilitza procediments analògics on el procés és visible i pot copiar-se; models de producció col·lectiva i col·laborativa; metodologies DIY. La cultura lliure en el seu treball es creua amb la tecnologia, el feminisme i la lluita social.

A nivell tècnic utilitza diversos mitjans, generant una obra interdisciplinària. Treballa amb video, instal·lació, performance, impresos, streaming, collage, art sonor i residus (escombraries), entesos en un sentit literal i expandit, posant particular èmfasi en els processos per sobre els resultats.

Planteja la figura de l'artista com un editor, un catalitzador d'experiències múltiples, un organitzador d'arxius que disposant d'una determinada informació codificada la manipula, intervé i recodifica.

El soroll, l'error, l'espai social abjecte i la tecnologia obsoleta s'incorporen als seus projectes com un element que parla de construccions polítiques, normes de conducta, imaginaris i hàbits pervertits.