Ramón Churruca
---
Ramón Churruca was born in Bilbao in 1964. He belongs to an important family of Las Arenas. Since he was a kid he shows interest in comics, movies and pornography. He studied at the Augustinian school Father Andres de Urdaneta, from which he keeps great memories: "It was a concentration camp. There was the football culture, if not played, you were queer or weird."

Influenced by the work of Doug Hall, he travels to America at the age of 20 to study experimental cinema in the San Francisco Institute of Art where he graduated in performance / video. His stay in the city completely opened his mind. However, Ramon found that social caste systems are reproduced in the art world. "These supposed liberal worlds are very closed ." This idea will be constantly visible in his work.

After his return from California in 1989, he works under the pseudonym of Ramon Bilbao Quantalagusta in Safi Gallery in Bilbao. There he made the first performances of Botxo involving artists such as Bada, Alberto Safi or Álex de la Iglesia. In this gallery, Churruca first spoke of the birth of the new Basque: the Urban Tecnoaldeano , "the enlightened messianic Ibarretxe is reflected in those who would build a giant bidegorri euskaldun where they can be inducted into their paranoia".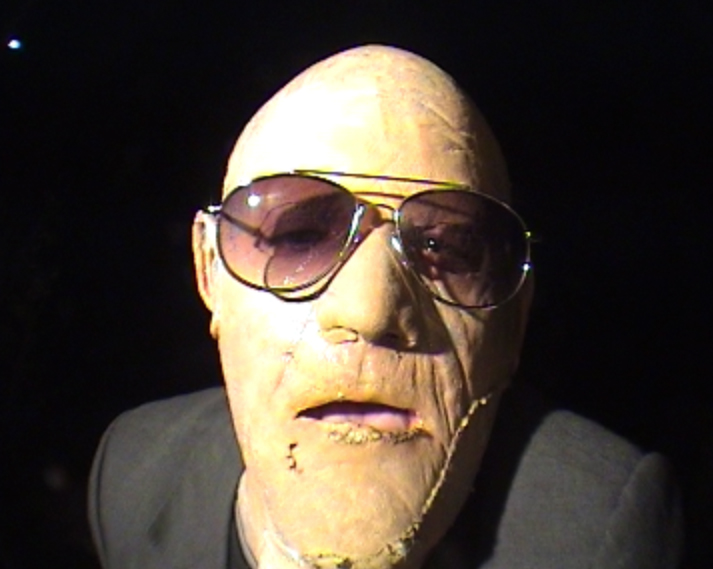 http://www.ramonchurruca.com/
Statement
For Ramon, performance "is an alleged insanity. Has a lot of mental work and writing. I take a series of guidelines that I change as I see what is happening." He looks for the immediacy and connectivity of the public. After Tecnoaldeano Urban he has been Olentzero Churruca Farlopero, Siamese Separatist and currently serves as Negruri under a mask of old: "Often the topics are true. I manage with the language of the topics. From there it comes Negruri. It is the devil. How the PNV Euskal Herria sees the old society of Negruri. It's me with a hundred years. It has to do with the functioning of the social caste system in Bilbao and the art world. For some succeed others have to fail."

The Film is one of his greatest passions and he considers himself a "very good spectator" although he believes the fiction of others but not his own. He has made several short films and has starred in dozens of films, always in special collaborations. Álex de la Iglesia considered him to The Day of the Beast, Dead of laughter and Crime Ferpecto. However, Churruca ensures that he works better as a performer.

His apparent tranquility and shyness transformed to hyperactivity, madness and destruction when he was in action. In his performances he has a tendency to strip, to provocate, to criticize everyone. The criticism is directed primarily to the society, nationalism, the public and even himself. He laughs at everything and everyone but is not considered a madman: "They think you're insane because you do things that are out of their supposed normality."

Juan Dopico