EXHIBITION IM FLUSS UNIVERSITY MIGUEL HERNÁNDEZ DE ELCHE
July 13, 2023 Elx. Spain.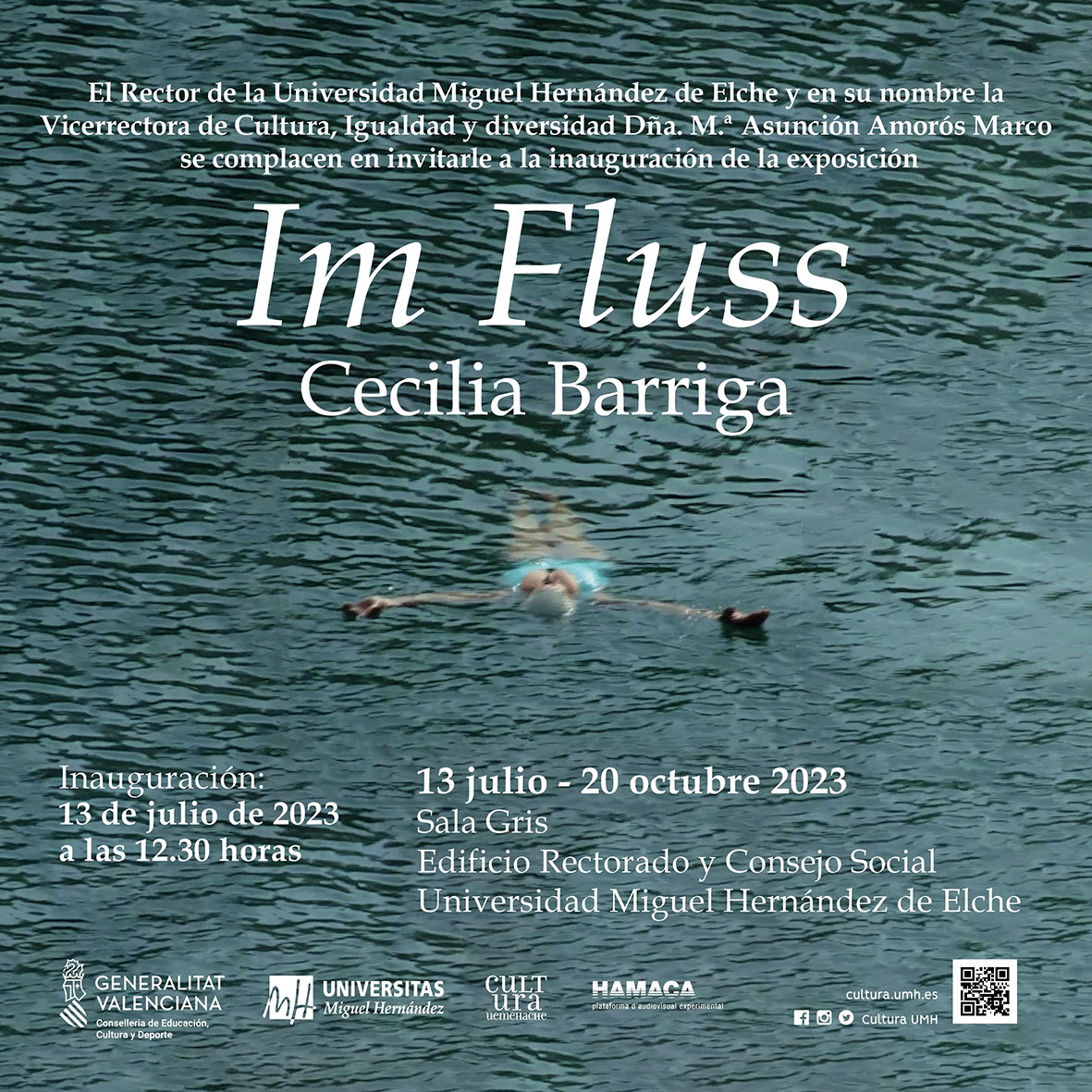 Sala Gris, Rectorate Building and Social Council of the Miguel Hernández University of Elche - opening July 13 at 12:30 pm until October 20, 2023.
Hamaca collaborates with the University Miguel Hernández in the exhibition Im Fluss, a piece by Cecilia Barriga about love, friendship and death.
Starting from a bath in the river that crosses a city, Cecilia Barriga intrudes a high degree of intimacy portraying two elderly women who narrate their complacency for staying together for more than thirty years. A record of how love and companionship have led them to a positive mutual dependence and reflect on the possible disappearance of one of them. Through a bucolic scene of both of them swimming in the river, their shower, grooming and returning home, a day of rest, both share their moments of happiness. Both agree that life is wonderful. Thirty years and as if it were the first day, a couple knew how to impose themselves before the social dictates of their youth and claim their love. A positive and hopeful document.
The exhibition enters into dialogue with Clara Moreno Cela's project "Reading by osmosis", an exhibition that wonders if there are ways of doing, how they are done and from which part of the body they are learned. It invites us to transcend the metaphor and imagine through a series of drawings, texts and videos the possibility of eating through the pores, caressing the books we want to read as a way of reading them and thinking about them as if we could devour them.
Im Fluss opens on Thursday, July 13 (12:30 p.m.) in the Sala Gris of the Rectorate and Social Council building of Miguel Hernández University and will be open until October 20, 2023.