Antoni Pinent
---
[Born in Spain. Nov. 1975]. Freelance Contemporary Art Curator, Antoni Pinent is also a Film Curator, Programmer, Experimental Film Producer and Maker, and he runs the Cine Invisible section at the Xcèntric (Centro de Cultura Contemporanea de Barcelona) since 2004.
Together with Miguel F. Labayen, he directs "Xperimenta. Miradas contemporáneas al Cine Experimental" (Biennial, 2007, 2009 and 2011. Produced by CCCB).
With Andrés Hispano, curated the exhibition "THAT'S NOT ENTERTAINMENT! Cinema Begets Cinema" (2006-2007. CCCB).
Film Curator of the international travelling cycle "DEL ÉXTASIS AL ARREBATO. 50 years of the other Spanish cinema" [FROM ECSTASY TO RAPTURE], accompanied by a catalogue-DVD edited by Cameo "DEL ÉXTASIS AL ARREBATO. A journey through Spanish experimental cinema".
He directs and coordinates contemporary art courses and cofounded the magazine-group Cabeza Borradora (Madrid, 2001-2004).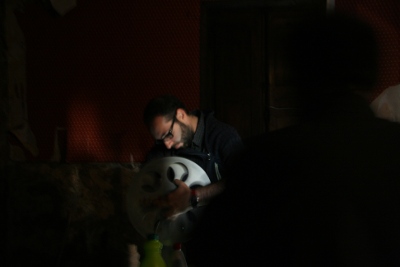 http://www.antonipinent.com/