Javier Codesal
---
Javier Codesal is a visual artist and poet. He lives in Madrid.

His work comprises photography, installations, videos and short films. He has had solo exhibitions, among other places, in: Diputación Provincial de Huesca (Huesca, 2005), Galería Estrany - de la Mota (Barcelona, 2004), MUA (Alicante, 2003), Sala Imagen (Sevilla, 2002), El Roser (Lleida, 2002), Palacio de Abrantes (Salamanca, 2000), Espacio Uno of the MNCARS (Madrid, 1999). Some of his most recent group exhibitions include: Dual. Trànsits i encreuaments per la història de l´art, Centre d´art La Panera (Lleida, 2005); Cuaderno de viaje, Museo Pablo Serrano (Zaragoza, 2005); Desplazamientos, Caja San Fernando (Sevilla, 2004); Paisatges després de la batalla, Centre d´art La Panera, (Lleida, 2004); `Ficcions´ documentals, CaixaForum (Barcelona, 2004); Gestes, Printemps de septembre, Ecole des beaux-arts (Toulouse, 2003); Pantalles Sensibles, Vieoart dels anys 90, Fundación "La Caixa" (Lleida and Girona, 2002). BIDA 2001, Bienal Internacional del Deporte en el Arte (Valencia, 2001); A cuerpo, Galería Luis Adelantado (Valencia, 2000); Between the skin and the distance, Salvador Dalí Museum (St. Petersburg, Florida, 1999).

He has published the poetry books Ha nacido Manuel (Icaria, Barcelona, 2005), Feliz humo (Centro Municipal Puertas de Castilla, Murcia, 2005) and Imagen de Caín (Icaria, Barcelona, 2002).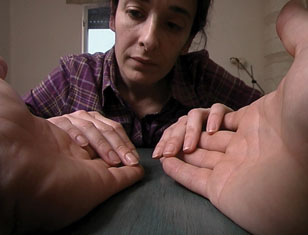 Statement
Things to do after the breaking of time, the gaze on the corpse, a writing of body traces, stains of signifying flow, a text formalised by death, and, as text, a living thing in its function of saying what must be said, rites that don't manage to close, but rather open even further a language that continues, the trasmission of culture, all of this that nobody wants to do if it can be avoided, what, other than art, has it as its duty?