Tamara Kuselman
---
Tamara Kuselman (Buenos Aires, 1980) studied Fine Arts at University of Barcelona after having studied Sculpture at Escola Massana (Barcelona).

She has had solo exhibitions at Sala Muncunill (Terrassa, 2011), L'Estruch (Sabadell, 2010) and Crimson Gallery (Buenos Aires, 2008). Her performances include Whe All Shine On at SMART Project Space (Amsterdam, 2010), and Subtítol at Arts Santa Monica (Barcelona, 2010).

She has participated in group shows such as the Jafre Biennial; La qüestió del paradigma, La Panera (Lleida); Before Everything, CA2M (Madrid) and Nuevo Video Argentino, 713 Gallery (Buenos Aires), among others.

Kuselman made a residency at Smart Project Space (Amsterdam). In 2010, she won the Injuve Prize and recently she was given the Miquel Casablanca's grant (Barcelona) for the production of El acto. She is currently attending a two-year residency at Hangar (Barcelona).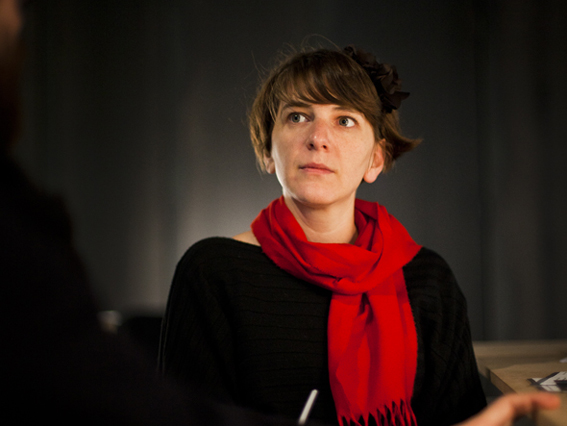 www.tamarakuselman.com
Statement
Tamara Kuselman's interests are diverse and variable. During the process of constructing her work, elements are changed and new meanings added along with them. This is why she proposes them to be understood as a series of doors opening onto more doors.
Many of her works arise from the idea of Representation in its broadest sense: from fictional representation on the stage and in art, to people's behaviour in everyday life. She explores the frontiers between reality and fiction, setting up situations in which these become muddled.