Lunch
---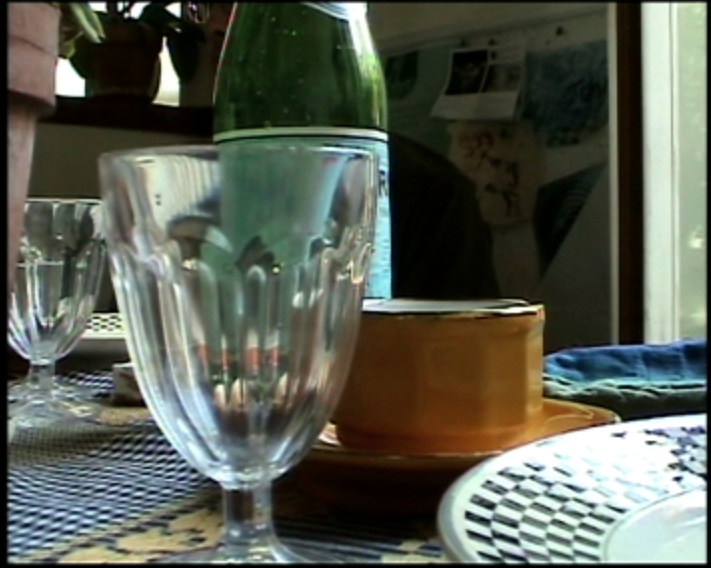 This is a video snapshot of a still life on a table, with glasses and cups included. Off camera a group of friends is having a conversation in non-native English about legal drugs and their effects, with music by Mano Negra in the background.

Lunch is part of the anonymous and personal portraits that Jana Leo produced in the United States. On this occasion, a group of friends is sitting at the table talking while lunch is being prepared. These are the moments before they eat. The hidden camera, an intruder and voyeur, records the casual gathering. A fixed still life shot of the table with tablecloth, a glass and a cup, and a seated figure in the background, is the image over which a debate about legal pills and tablets is taking place. The friends talk about a certain type of tablet, taken to fight jet-lag, which in the US is only available with a doctor's prescription, but which in Spain can be obtained at the counter in the pharmacy (although many people are embarrassed to ask for them). These tablets, called Ambient, give you the feeling of getting out of your everyday life and entering a foreign world. They don't give you a hangover and in 6 hours (for some people it is just 5, for others it is 7) their effect disappears. One of the girls participating in the conversation suggests taking only a quarter, just to get high for a couple of hours. They continue discussing the pill and its ingredients and the difference in price between the US and Spain. They go on to describe the effects of other pills, such as that of an anti-inflammatory drug which a US doctor prescribed for one of the Spanish girls, but whose name she can't remember. Later, a Japanese guy mentions that in France he once tried some yellow and blue tablets which were supposed to be very good, but which didn't work for him.

Jana Leo's usual interest in the intimate everyday life of individuals on this occasion reach out to collective personal relations (this time without sex). Without showing them, in Lunch Leo renders a portrait of her friends. They are all cultural emigrants in foreign land, their globalised everyday life and the jokes that they exchange seem to pay tribute to William Borroughs. The banal conversation about a happy reencounter and the differences that distance provokes make up a snap shot framed by an abrupt beginning and end. There is nothing else before and after, we don't find out who these friends are, or why they are friends. We only hear a conversation between individuals who we can't see, people who speak and move off camera, just like in another piece of Jana Leo's that she also produced during her stay in the US, namely Park.
Technical datasheet
Title:

Lunch

Direction:

Jana Leo

Production:

1996.

Duration:

00:06:30

Languages:

English

Formats:

Betacam Digital - DVD

TV systems:

PAL

License:

Copyright